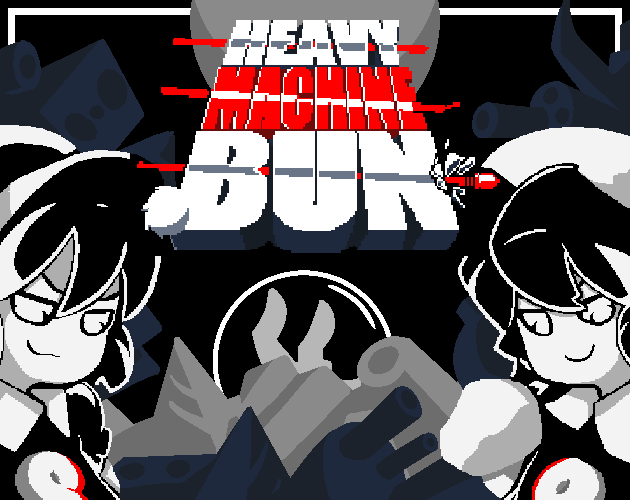 Heavy Machine Bun
A downloadable game for Windows, macOS, and Linux
Game info:

This is an infinite top-down shooter arcade game where you can only shoot and dash. This game was made by 4 people as a submission for Touhou Station Jam 2021 within under a week's deadline.
Controls:
left click to shoot
right click to dash, you are invincible the first half of the dash but not the second half
Press R to restart if something is wrong
Press esc to quit the game
Rules and Mechanics:
You will switch weapons every 10 seconds depending on which side of the arena you are at, switch side to "transfer department" of weapon manufacturer to get desired weapon.
Upcoming weapons are previewed, as well as bonuses that come with it.
Staying on one consistent side every time the timer hits zero earns you favors towards that side.
The more favors you have, the higher your score multiplier.
Switching sides will grant you health, but will also reset your current Multiplier and Favor Gauge.
Overhealing at Max HP gives you a HP part, collect 2 to gain a Max HP (up to 9)
Enemies spawn endlessly and keep getting harder, defeat them and don't get hit.
Survive, aim for a high score and good luck.
Normal movement? haha, who needs that!
Credits:
extra credits:
Special Thanks:
laspider45 : for play testing
Ferdy's Lab : for play testing and creating a guide
Extruderx : for creating the cursed monolith challenge run that inspires this game
Touhou Station : for hosting the game jam
Inspirations:
version 1.1 change log:
Updated the tutorial to include mentions of building up max HP
You can now press esc to quit at any screen
R key is used to restart the game now instead of the backspace
Added a proper credits window
Updated the main menu
Highscore now displays on the title screen
Gameplay tracks are now being played one after another instead of being randomized
Heavy machine gun rework: starting fire rate is the maximum, but now starts out very inaccurate, gets accurate over time
Ying yang orbs now bounces at their edges instead of their center point
Increased triple weapon's fire rate
Increased shotgun damage
Bug fixes:

Fixed the custom cursor issue
Fixed a bug that the right weapon preview card will not flash when you are over it
Fixed a bug where 2 waves spawn at the same time
Fixed a bug where the kappa portraits will not flash red when their weapon was chosen
Fixed a bug where heavy machine gun will not reset after letting go the mouse
Revolver projectiles collisions are more consistent when in close range

New weapons:

Shooting star: a revolver that shoots phasing bullets, phases 1-2 times once traveled through a wall, piercing
Spray & pray: high fire rate weapon with a wide firing radius, good AOE weapon but quite inaccurate
Shockwave: a shotgun that shoots 360 around the player, can also clear surrounding bullets, no recoil, can be used defensively
Morning star: surround yourself with drills, makes you defensive against to melee enemies but not enemy bullets, no recoil, more of a defensive weapon
Bouncer: a revolver that shoots bouncing bullets, bounces 3 times, piercing, it is surprisingly easy to land trick shots without doing so
Disclaimer: Touhou Project original concept, characters, and other elements are the property of ZUN and Team Shanghai Alice. This game is a fan made work and is not affiliated with or endorsed by the original creators. Please support the official series. Wiki: https://en.touhouwiki.net/wiki/Touhou_Wiki